The latest issue of Uncut Magazine features Neil Young on the cover. The issue's cover article is "50 GREAT LOST ALBUMS" […] Uncut's top pick of great lost albums is Neil Young's Time Fades Away.
(via Neil Young News: Uncut Magazine's Great Lost Album: Time Fades Away)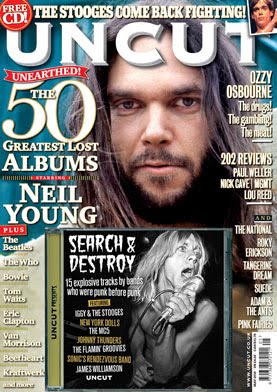 The fantastic cover of Neil Young's Cinnamon Girl single.
Sample and Hold
Neil Young - Dead Man Soundtrack - Front (via LostMyHeadache)
All Improvised!
Mirrorball featuring Pearl Jam, released on June 27, 1995
"Recording Mirror Ball was like audio vérité, just a snapshot of what's happening. Sometimes I didn't know who was playing. I was just conscious of this big smouldering mass of sound."
BUFFALO SPRINGFIELD (UK-72,Atlantic K 10237)-EP: Bluebird/Mr. Soul/Rock 'N' Roll Woman/Expecting To Fly via www.raw-tcsd.com
Stampede - Buffalo Springfield

The unreleased album. Most sources say it was just an alternative cover and name for Buffalo Springfield Again, and others imply it was something different. The studio session track list is here, which shows some of the tracks did end up on Buffalo Springfield Again.
The unreleased album Homegrown.
It was so near to being released that a cover had been created. At the last moment however, Neil Young chose to drop Homegrown and release Tonight's the Night instead.
Chrome Dreams is the name of a 1977 unreleased album by Neil Young. Young is quoted as saying "What Chrome Dreams really was, was a sketch that [David] Briggs drew of a grille and front of a '55 Chrysler, and if you turned it on its end, it was this beautiful chick…I called it Chrome Dreams."